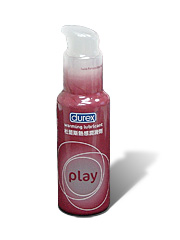 Durex Play Warming Lubricant ™ is a Gentle and non sticky
Pleasure-enhancing lubricant
. It's transparent and odourless and is Water-based so it doesn't leave stains.
Durex Play Warming Lubricant create a warming sensation that will immediately heighten sensitivity. Blow, and it'll gently heat your skin, making the feeling even more intense.

Durex Play Tingling Lubricant is designed for pleasure-enhancement, making lovemaking a more
intensifying experience for both partners
. With a
sensual minty scent
, and long-lasting silicone-based formula, Durex Play Tingling is silky smooth, and
can also be used as a massage lotion.
You guys/gals used these before ? Heard from a female friend that these lubricants really offers more than what they usually do.
Not just lubricants anymore!
The Warming one heightens sensation.
Don't know what will the Warming one do to the pussy but as far as i know, it certainly will heighten a great deal of pleasure for the men! Any of the guys here tried the "hot-cold" treatment ? That basically is a blowjob, but with warm OR cold water in the gals mouth while she blows you off! Alternating between the 2 extreme end of the celsius!
The Tingling one offers a cooler touch.
Try blowjobs with an ice cube in your mouth (for the ladies) or place the ice cube on the pussy at the same time you give her it a good slurping!
Do they work ? Any readers tried them before ? Care to comment ?
Gonna get one each and try ! =p